With their timeless beauty and long-lasting durability, timber flooring is a popular choice among builders, homeowners and renovators alike. With the ability to add warmth and character to any space, timber flooring remains one of the top choices for both traditional and contemporary projects.
Contrary to popular belief, selecting the ideal timber flooring involves more than simply considering colour and finish. Beyond the surface aesthetics lie a number of factors that are pivotal in creating a truly remarkable timber floor.
As a leading supplier of timber supplies in Sunshine Coast, King Truss understands the importance of choosing the right timber floors for your project. From different types of timber flooring to their benefits and considerations, we will explore everything you need to know about choosing the perfect timber flooring.
What Are The Benefits of Timber Flooring?
When it comes to making decisions about flooring during a construction or renovation project, one option stands out among the rest: timber flooring. Beyond its unmatched aesthetics and style, timber flooring offers a host of benefits that make it the ideal choice for any project.
Durability & Longevity
Timber products are known for its remarkable durability and longevity, and timber flooring is no exception! Its natural resilience allows it to withstand daily wear and tear, making it ideal for high-traffic areas in both residential and commercial spaces. With proper care and maintenance, timber floors can withstand the test of time, ensuring your investment remains intact and your space retains its timeless appeal for decades to come.
Natural Insulation
While the aesthetic and functional benefits of timber flooring are well-known, one advantage that is often overlooked is its natural insulation properties. Timber flooring acts as a natural barrier against temperature fluctuations, providing you with a comfortable living environment throughout the year.
During colder seasons, timber flooring helps retain warmth reducing the need for excessive heating and resulting in energy savings. On the other hand, during the heat of summer, timber flooring can also keeps your space cool reducing the reliance on artificial cooling systems and further contributing to energy efficiency.
Low Maintenance
Tired of laborious cleaning routines that come with carpet and other flooring materials? Timber flooring is a relatively low-maintenance flooring solution, requiring little more than regular sweeping and occasional mopping.
Easily Restored
One of the exceptional advantages of timber flooring lies in its effortless restoration. Over time, if signs of wear and tear begin to appear, timber floors can easily be sanded and refinished to restore their original beauty. This cost-effective process rejuvenates the timber, allowing you to enjoy its appearance (and other benefits!) for years to come.
Style
When it comes to style, few options rival timber flooring options. With its inherent natural warmth and wide spectrum of rich tones, timber flooring has the power to transform and complement any space.
One of the unique advantages of timber flooring is its versatility when it comes to customization. Not only can timber flooring be stained and oiled to enhance its natural colour variations, but it can also be painted to completely alter its colour, opening up endless design possibilities. Whether you desire a classic, timeless look or a bold, contemporary statement, timber flooring can be tailored to match your vision and create a fully personalised space.
Sustainable
Timber flooring often stands out as a superior choice compared to non-renewable alternatives. Not only does timber flooring boast minimal energy consumption during production, but it also possesses natural insulating properties, making it an environmentally superior choice.
Timber is also a highly recyclable material that can be repurposed for other projects or taken to recycling centres where it can be transformed into new products. This recycling process not only reduces waste but also conserves valuable resources, elevating timber flooring as an even more eco-friendly option.
Read More: Going Green: The Benefits of Choosing Timber for Sustainable Building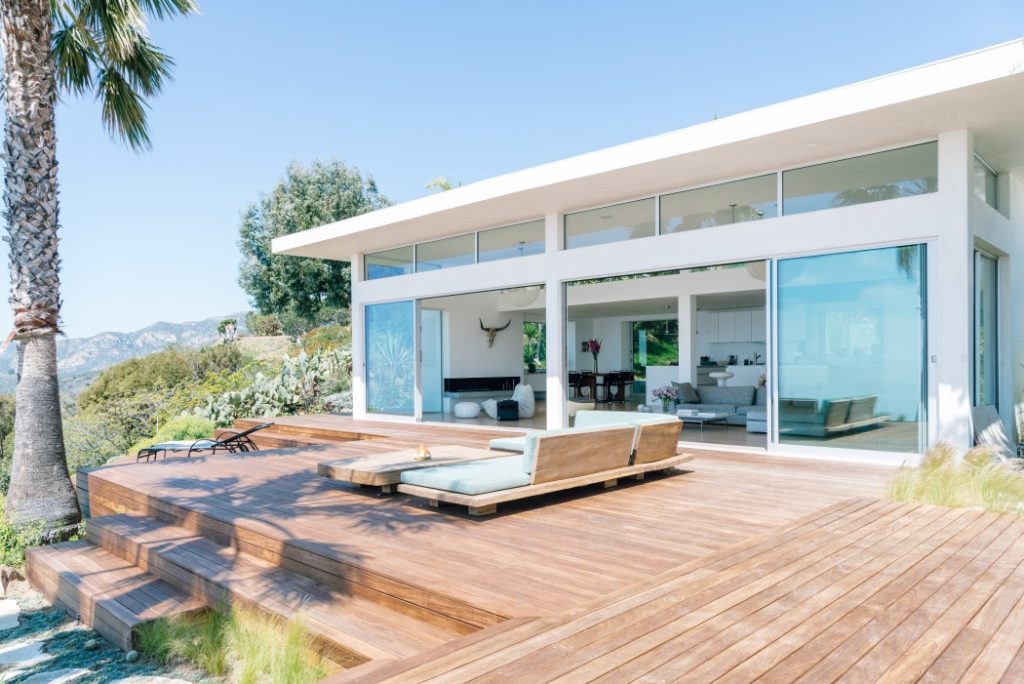 Types of timber flooring
When it comes to timber flooring, there are a range of options to choose from, each with its own distinct characteristics and best use cases. The most common types include solid timber flooring, engineered timber flooring, and laminate timber flooring.
By understanding the distinct features each flooring type, you can make an informed decision that aligns with your aesthetic preferences, functional requirements, and budget. Whether you are looking for the durability of solid timber, the enhanced stability of engineered flooring, or the practicality of laminate, timber flooring offers a versatile and stylish option for every need.
Solid Timber Flooring
Solid timber flooring is one of the oldest and most traditional flooring options. As the name suggests, solid timber flooring are made from a single timber planks that can be installed directly to joists, sub-floors and more.
Although it may involve a higher upfront cost, solid timber flooring is renowned for its exceptional longevity, often lasting for years and even generations with the right care and maintenance. This makes it a popular choice for homeowners looking to not only raise their property value, but also invest in a flooring option that will stand the demands of daily use.
One of the standout features of solid timber flooring is its timeless and authentic aesthetic. The natural grains and textures of the timber create a warm and inviting ambiance that never goes out of style. Additionally, solid timber flooring can be sanded and refinished multiple times, allowing you to adapt the colour to match changing style preferences or address any damage or wear and tear that may occur over time.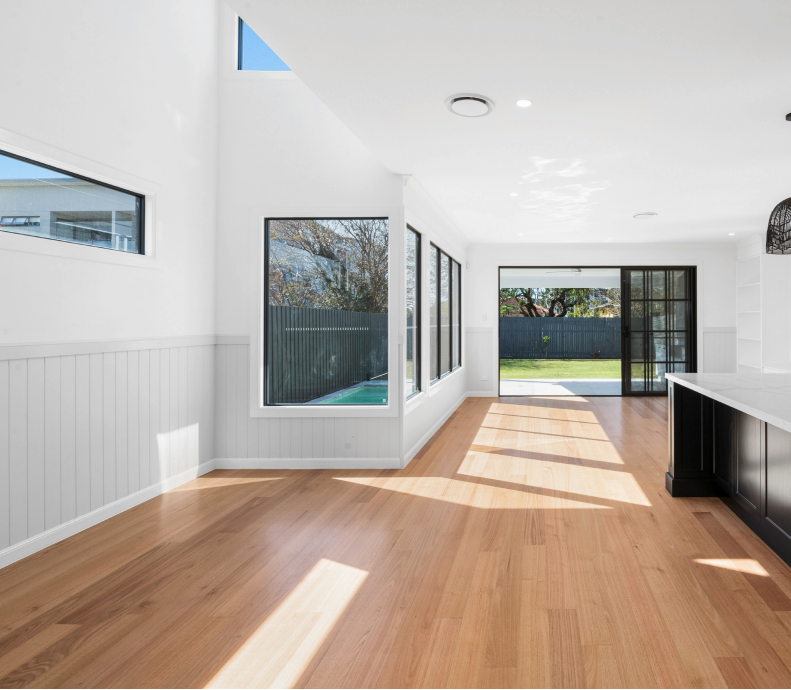 Engineered Timber Flooring
Engineered timber flooring is a popular choice that combines the beauty of real timber with enhanced durability and moisture resistance. It is constructed with a layer of real timber on top of a plywood or high-density fiberboard (HDF) core, resulting in a stable and long-lasting, durable flooring option.
In addition to its durability, engineered timber flooring offers a wide range of styles and finishes to suit various design preferences. From different timber species to various plank widths and finishes, the options are plentiful, allowing you to create a personalised and unique space. Its low maintenance requirements make it an attractive choice for busy households or commercial spaces.
Another advantage of engineered timber flooring is its cost-effectiveness. Compared to solid timber flooring, engineered options can be more budget-friendly while still providing the natural beauty of real timber.
Laminate Flooring
Laminate flooring presents an excellent option for those seeking a budget-friendly alternative to solid or engineered timber flooring. Composed of compressed fibreboard with a printed image of timber on top, laminate flooring offers affordability and ease of installation.
Installing laminate flooring is a straightforward process, often utilizing a click-and-lock system that requires no adhesive. This DIY-friendly installation method can save both time and money, making it an attractive choice for homeowners or property owners looking for convenience.
In terms of maintenance, laminate flooring is relatively easy to care for. Its hard and durable surface resists stains, scratches, and fading. Regular sweeping or vacuuming, along with occasional damp mopping is typically sufficient to keep laminate flooring looking its best.
Factors To Consider When Selecting Timber Flooring
When selecting timber flooring for your home, there is no one-size-fits-all solution. Each space is unique, and what may work perfectly for one area may not be the best choice for another. To ensure the perfect outcome that aligns with your needs and preferences, several key factors should be carefully considered. These include:
Style & Appearance
tart by deciding on the type of timber that best suits your vision. Different timber species have distinct characteristics in terms of colour, grain pattern, and hardness. Popular options include oak, spotted gum and ironbark. Be sure to choose a timber that complements your home's interior design and reflects your desired style preferences.
Type Of Property
Consider the type of property you have, whether it's a residential house, an office space, or a commercial establishment. Understanding the specific needs of your property will guide you towards the most suitable timber flooring choice that can withstand the demands of the space while aligning with your preferences.
Room Function
The function of each room is an essential factor in selecting the appropriate timber flooring. High-traffic areas like hallways or living rooms may require more resilient and scratch-resistant options, while bedrooms or studies may prioritize comfort and warmth underfoot.
Maintenance Preferences
When selecting timber flooring, be sure to consider your maintenance preferences and capabilities. Some timber flooring options, while still relatively low maintenance, will require more frequent maintenance, such as refinishing or resealing, to keep them in top condition. If you prefer a low-maintenance option, laminate flooring options are ideal, due to their resistance to scratches and stains.
Budget
One of the biggest deciding factors when choosing timber flooring is pricing and budget. Timber options vary in price, so understanding your financial limitations will help you narrow down your choices and select a flooring solution that meets both your requirements and budget. As previously explained solid timber flooring, while durable and long-lasting require a bigger initial investment, whereas engineered and laminate alternatives are the most cost-effective alternatives.
Installation
Another important factor to consider is installation. Flooring options like solid timber will require professional installation, whereas other options like laminate are more suitable for DIY installation. Be sure to factor in the time and cost associated with installation when making your decision.
Read More: Hardwood vs Softwood: What Is Better for Timber Construction Projects?
Timber Flooring Built to Last
Selecting the right timber flooring for your home is a significant decision that requires thoughtful consideration. Whether you opt for solid timber flooring for its timeless elegance, engineered timber flooring for its enhanced stability, or laminate timber flooring for its cost-effectiveness, each option has its own unique advantages to enhance your living space. By weighing factors such as budget, style, durability, and maintenance, you can make an informed choice that meets your aesthetic preferences and functional requirements.
When it comes to sourcing high-quality timber flooring and supplies, King Truss is a leading supplier on the Sunshine Coast. With our wide range of timber flooring options and expertise in the industry, we can assist you in finding the perfect timber flooring for your next project. Get in touch to explore our selection today!