From timber roof trusses to flooring, King Truss are your local supplier of high quality timber products, frames and roof trusses in Sunshine Coast.
Quality Timber Frames & Trusses
Known for their strength, and versatility, timber trusses are a popular choice for contractors and builders across the Sunshine Coast. As the leading supplier of state-of-the-art floor and roof trusses, King Truss takes pride in offering a comprehensive range of high-quality timber trusses that meet the specific requirements of your project.
Our floor and timber roof trusses are custom-designed to fit seamlessly with your construction needs, and our industry-leading fabrication techniques ensure that they are both sturdy and easy to install. Whether you need support for your flooring or robust structures for your roofs, our highly-skilled team of experts are here to guide you every step of the way.
With extensive experience in the truss and fabrication industry, we have the expertise to provide you with personalised guidance and unparalleled service. Choose King Truss, and let us help you ensure the success of your Sunshine Coast building project.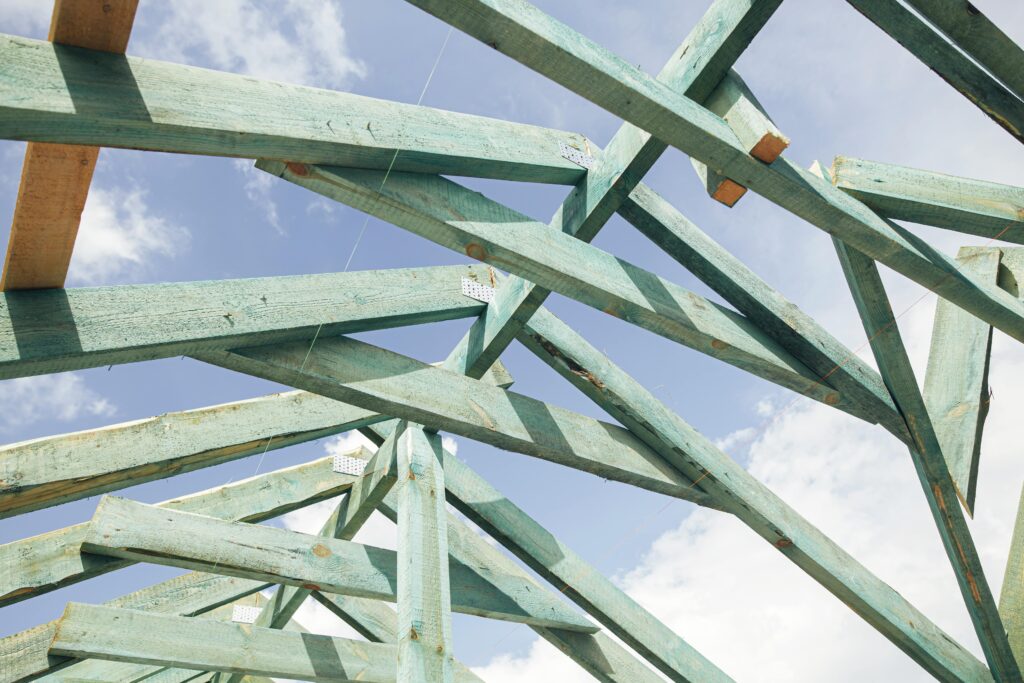 With our cutting-edge manufacturing technology and top-of-the-line software from Multinail, we are proud to offer premium timber roof truss solutions to clients across the Sunshine Coast. 
Our timber roof trusses are designed and manufactured with precision and accuracy top of mind, ensuring that they fit seamlessly with your construction plans. We understand that time is of the essence in any structural project, which is why our trusses are quick and easy to install, saving you valuable time and money.
From design to delivery, our team of experts will work closely with you to understand your specific timber roof truss requirements and provide you with customised solutions that meet the unique needs of your building projects.
Our comprehensive floor truss systems offer a complete structural solution for timber floors, incorporating flooring material, floor trusses, StrongBacks, hardware, connections, and bracing.
At King Truss, we prioritise quality and sustainability. Our timber products are sourced from leading suppliers, ensuring they meet the highest standards of quality and durability. Designed with open webs, each timber floor truss allows for easy installation and access to electrical, plumbing, and air ducts.
Trust King Truss to deliver timber floor truss systems that meet your specific project requirements. We are here to guide you through the process, ensuring that your timber floor truss system is seamlessly integrated into your construction project.
Timber Truss Delivery Made Easy
At King Truss, we understand that the delivery of your timber trusses and frames is just as important as the quality of the fabrication products themselves. That's why we are dedicated to providing an extensive range of high-quality timber trusses while prioritising fast and efficient delivery services.
With our fleet of crane trucks, we offer a seamless and reliable delivery service to locations across locations in Queensland, including Brisbane, Rockhampton, and Kingaroy.
Our experienced team takes utmost care in the handling, dispatch, and transportation of your timber trusses, ensuring they reach your site on time, every time! Choose King Truss for a reliable and seamless delivery experience that you can trust!
Frequently Asked Questions
Start Your Build With King Truss
As an independent family-owned business that employs over 60 full-time team members, King Truss are dedicated to providing high-quality timber trusses products on the Sunshine Coast.
Ready to start your project with high-quality timber trusses? Get in touch with the experts at King Truss today!