If you're building or renovating a home, office, or working on a construction project, it's important to consider all of your options when it comes to the structure of the building. One option that is growing in popularity is floor trusses, which offer a range of both functional and structural benefits that you shouldn't ignore.
Floor trusses are an engineered product that is used to create the floor frame of a building. They have many benefits over traditional framing methods, which is why more and more people are choosing them for their construction and renovation projects.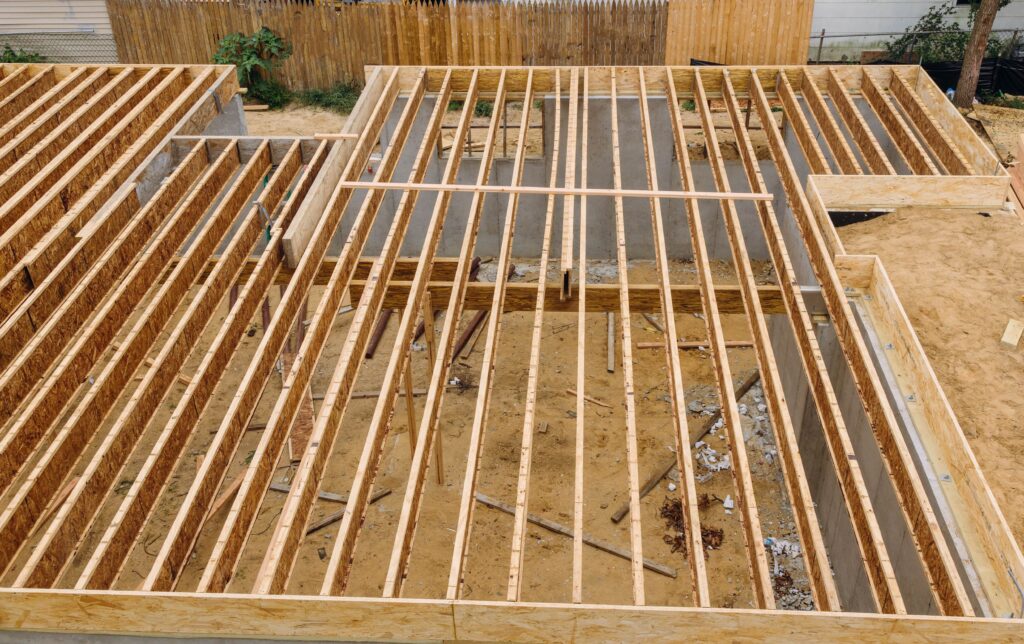 What are Floor Trusses?
Floor trusses are pre-manufactured, engineer-designed components that form the floor frame of a building. Floor trusses are ideal for both residential and commercial construction projects, as they provide superior strength and durability while also being lightweight – making them easier to install than traditional systems.
King Truss floor trusses are the solution to many floor framing problems. By using floor trusses, architects, engineers, and contractors can create high-quality construction that is squeak-free with the added benefits of reduced framing time, waste, and callbacks.
As the Sunshine Coast's leading supplier of timber floor trusses, King Truss believes that these invaluable construction components should form part of your project. Here are 5 reasons to use floor trusses in your build…
#1 Superior Stability
Floor trusses are commonly composed of 90mm timbers, providing a steadier foundation than floor joists, their flooring counterparts. When installed correctly, floor trusses provide accumulated stability and stiffness to the entire structure.
This means that floor trusses can be designed to span longer distances than traditional lumber, creating larger rooms with fewer bearing walls or columns. They also offer greater protection from warping, twisting, or buckling over time due to their superior design and composition of materials.
#2 Easier Installation
Floor trusses are much easier to install compared to other timber components because they take up less space in transport and require fewer man hours during installation. This makes them ideal for projects where a speedy turnaround is needed without sacrificing quality workmanship.
At King Truss, all our floor trusses come pre-fabricated and pre-cut to exact measurements, ensuring that they fit perfectly into the frame of your building. This not only saves you time and money but also ensures a more accurate installation which is crucial for the integrity of your structure.
#3 Design Flexibility
Another great benefit of floor trusses is their design flexibility. With traditional floor joists, you are limited in terms of placement due to load-bearing walls or columns. Floor trusses, however, can be placed anywhere within the floor area, creating customised designs that suit any project needs – from soundproofing to extra headroom or open-plan living spaces.
Special bearings, cantilever, and balcony details can be incorporated into a build using floor trusses. What's more, the open web configuration that floor trusses allow makes it easier and cheaper for plumbers and electricians to install your utilities!
#4 Incorporate Stiffness and Strength into the Design
The design of floor trusses also allows the engineer to incorporate stiffness and strength into the design. This ensures that any weight or pressure placed on them, such as furniture or appliances, will be supported efficiently and remain in place over time.
Using floor trusses also eliminates bounce caused by traditional joists, ensuring a more comfortable living experience.
#5 Longer Term Durability
Finally, floor trusses have an edge when it comes to long-term durability. Their construction means that they are able to withstand rot, insects, moisture damage, extreme temperatures, and other harsh environmental conditions that can weaken other components over time.
This makes them ideal for projects located in coastal areas where wind and water can cause serious damage to other building materials, such as timber and masonry.
Choose King Truss for Floor Truss Supply
There is nothing more important than a solid foundation and, at King Truss, we recommend using our floor trusses that are custom designed to suit each house. Floor trusses are a great solution for construction and renovation projects due to their superior stability, ease of installation, design flexibility, strength, and durability, making them a worthwhile investment for your construction or renovation project.
Contact the team at King Truss today to find out more about floor trusses and how we can help you with your "whole of build" requirements.